Welcome To Zi Bin's Website


This my very own personal homepage. It's about all stuff about me, my friend, and every thing I can imagine! By the way, if you really appreciate, don't mind sending e-mail to me or sign my guest book. And last of all, HAPPY SURFING!!!
Click the button below to enter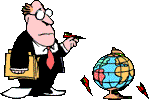 06/22/01

"Congratulations!!......Your site definitely qualifies for the "Critical Mass Award". A very nice site, good design, clever graphics, and your content is informative, entertaining, presented well and easy to access. A worthy enterprise and a positive contribution to the Web."
- Critical Mass Award